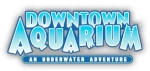 Downtown Aquarium
Low Sensory Mornings
Oct. 15th
For people with autism or sensory processing disorders the Aquarium Exhibits can be a bit overwhelming. Join us on a special morning when we open early and turn down the ambient sounds so you and your family can enjoy the aquarium in a calmer and more quiet setting.

Please Note: Early hours are from 8:30am-10:00am. At 10:00am the aquarium will open for regular business, the ambiance sounds and flash flood exhibit will be turned on at that time, however, you are welcome to stay in the aquarium as long as you wish.
$6 DISCOUNTED KIDS EXHIBIT PASS
$6 Kids Exhibit Pass (10 yrs and under) with the purchase of an Adult Exhibit Pass. Not valid with any other offer or promotion. No cash value. Limit one discount per coupon.